Toddlers can be just as picky about their swimsuits as adults, especially when it comes to style. No doubt you've had your heart set on a particular design or pattern that you know your little one will look adorable in, but the fact remains that no amount of parental pressure will force her to put on that bathing suit if she simply doesn't want to.
Luckily, with just a few simple modifications to the traditional designs that your toddler has grown used to over the years, you can create three great swimsuit styles that she'll absolutely love and never want to take off.
1. Ballet style
Nowadays, swimsuits for little girls aren't just about sun protection and making sure your child is comfortable when splashing around in a pool. It's also about how she looks.
With a ballet-style swimsuit, you can guarantee your girl will be as elegant as ever while she plays with her friends at summer camp or lounges by an outdoor pool during a family vacation. Ballet-style swimsuits are ideal for young children because they come with built-in SPF and other features that keep them safe in the water but still allow them to move freely.
Many of these suits have a skirt that covers most of their body, which not only protects them from harmful UV rays but also helps prevent chafing if they're playing on wet sand or sitting under an umbrella.
2. Mermaid style
Mermaid-style swimsuits are a classic choice for little girls, especially with those shiny and shimmery details. A mermaid-style top will go nicely with board shorts, or you can mix and match for a unique look. When it comes to tops, both tankinis and bikinis work well with mermaid tail print bikini bottoms.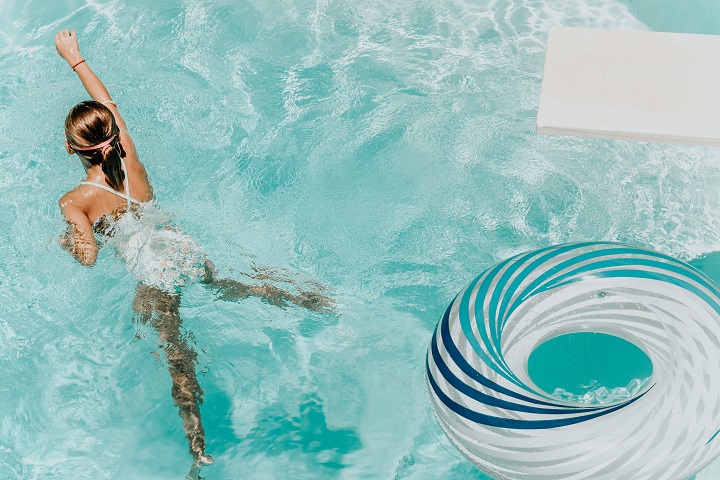 If two-piece swimsuits aren't her thing, she can still be as stylish as ever in her one-piece collection of Presley Couture's girl's swimsuits. Keep an eye out for styles that feature lacy fabric or embellishments; these will help your little girl look more like Ariel and feel like a Disney princess.
Think about getting a few matching sets of tops and bottoms so that she'll have extra options when pairing outfits together!
3. Racerback
This style is perfect for a little girl who loves to run, jump and twirl. A swimsuit with a racerback offers full coverage so she can play freely without worrying about her top falling down. If you like, try having your child model some cute matching goggles or a bright sun hat while she's at it.
Once your little one is old enough to want a more grown-up look, consider swapping out her racing suit for a sleek halter tankini instead. This simple style features wider straps that offer more support and will keep her looking chic as she grows up.
4. Two-tone
Mixing patterns is very on-trend right now, and we think that's a great idea for swimsuits as well. In addition to creating an attention-grabbing look with a more subdued base color and an eye-catching pattern at the top, two-tone swimsuits are also adorable when they have some personality added to them via embellishments like bows, ruffles, or even sequins.
There's no need to stick with all one color; don't be afraid to take risks and make your kid look like a mini star. If you're looking to buy your daughter a bathing suit now or if you're shopping ahead, keep an eye out for these styles!