We show you the most beautiful long hairstyles that are setting trends among influencers and celebrities. We assure you that you will love them and be surprised by how easy it is to make them.
If you have long hair and you're tired of always looking the same, but you don't want to give up that long hair that has cost you so long, don't worry, here comes to the rescue.
We have found the ten hairstyles that are sweeping this 2021. They are versatile and so easy to make that you will want to wear them every day.
1. How Do You Wear Long Hair In 2021?
Hair with a textured and gradient style. It is the huge current trend and recalls the sunset, with the breeze and the sea waves—a complete surfer air ideal for the summer season.
The braids. As for collected for the day today, the line is marked by the braids to accompany that textured hair but providing one more point. Braids worked in different ways, in a collected or more semi-collected style.
Low buns. María confides in us that for events, she rewards elegance but without giving up comfort. That is why low bows are a must this season.
They were collected with accessories. They have been succeeding for several seasons, and this 2021 they will be no less. Bet on XL and unique accessories. Styling becomes the complement for the perfect look.
2. What Is The Secret To Having Long Hair?
The key to having long, healthy, and shiny hair is to take care of it and maintain a proper hair routine.
Brush your hair both in the morning and at night. In this way, you will distribute the sebum throughout the hair, a substance that will protect the cuticles and prevent tangles. Also, try to do it before washing it to untangle it and prevent it from breaking.
Please do not settle for shampoo; long hair also needs the application of conditioner to soften it and, once a week, a suitable hair mask for your hair.
Use an ionic dryer and finish with cool air to close the cuticles.
Did you know that brushes with natural bristles give your hair more shine? Why it is so important to use a quality comb or brush.
Avoid rubbing wet hair with a towel. Better dry it by sliding the towel from the head to the ends to absorb all the water and smooth the cuticles.
Lastly, avoid using rubber bands or metal hairpins as they break the hair. It is better to clear your hair with a headband than with an updo to be at home.
Now yes, these are the ten hairstyles for long hair that you will not stop wearing in 2021.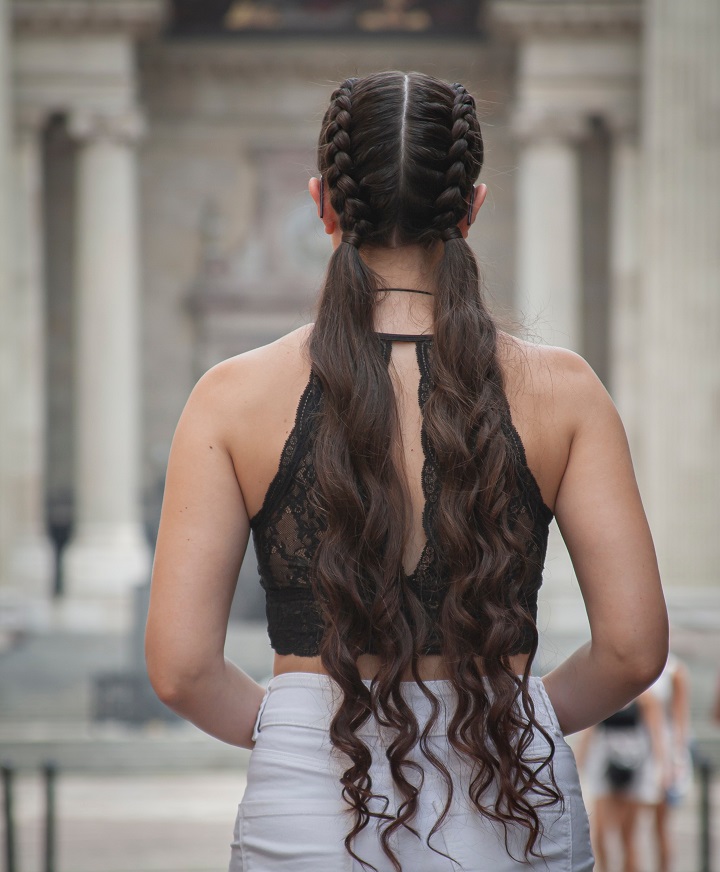 3. Hairstyles for long hair: bubble ponytail
The most famous ponytail on all of Instagram, also known as the bubble ponytail, is another of the hairstyles that we will not stop seeing this year. The motives? It's gorgeous, flattering, and perfect for adding elegance to any look.
You can make it to the measure you like the most and with the one, you feel most comfortable with, from the top of the crown to the nape of the neck. In addition, it is super versatile; you can wear it both to a wedding or go to work, and it allows you to add accessories such as bows or handkerchiefs to increase its style further.
How to do it?
Collect your hair in a ponytail at the height you want and see completing the line of bubbles with fine rubber bands, bulging them slightly to make them look more voluminous.
Apply a fixing spray and add some complement (if you want), and you will be ready. If you're going to give it a more youthful and summery air, choose rubber bands of different colors.
4. Hairstyles for long hair: knot bun
Low buns are one of the most versatile hairstyles that we tend to wear the most without realizing it — indeed, it's the first thing you do when you get home. It is one of the most elegant updos, and you will be surprised by how easy it is to do.
It is ideal for summer weddings where the heat is pressing, and you want to be sophisticated but without being hot.
How to do it?
Leave a section of your hair loose and collect the rest in a bit of bow with a hair tie. Finally, wrap the strand over the bun and secure it with a bobby pin.
5. Hairstyles for long hair: surf waves and chunky highlights
In addition to being one of the trends of this year, the chunky highlights have an immediate good face effect and are capable of enhancing the most beautiful features of your face. As María confirmed, we will wear a carefree and very relaxed surfer style that reminds us of the sea breeze this summer.
So if you want something natural, uncomplicated, and in line with trends, opt for hair with surfer waves and subtle chunky highlights to brighten your hair and face.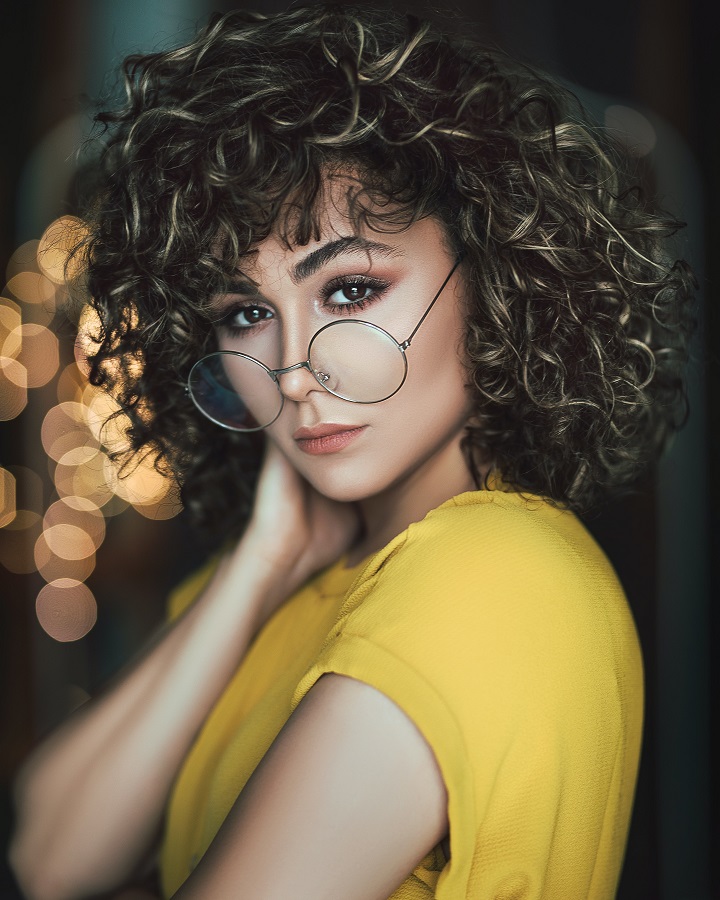 6. Hairstyles for long hair: baby braids
Baby braids are the star hairstyle of this year and the favorite of the top celebrities and influencers of the moment, such as María Pombo or Ester Expósito. Baby braids are thin braids that frame the face. It is the perfect hairstyle to give personality to the hair and enhance the features of the face.
In addition to being super flattering and rejuvenating, these braids are very easy to do, you do not need any tools, and it will not take you more than 5 minutes. If you want a more subtle effect, make the braids with strands farther from the forehead.
How to do it?
Separate two strands of hair close to your face and comb them with styling oil to make them easier to manage. Separate each strand into three and braid each one of them.
You can make them tight if you want them to look more or slightly tousled so that they blend in with your hair. Finally, add a thin rubber band so that the braid does not unravel.
7. Hairstyles for long hair: semi-collected with a bow
This semi-updo known as a half-up bun continues to be a trend this year and is characterized by making a high bun by collecting half of the hair and leaving the rest loose. It is flattering, especially for rounder faces, because it adds height to the front making it look more elongated.
If you want to add movement and a more summery look, give your hair some surf waves. Take a look at this viral trick to make waves without heat.
How to do it?
The key is to do it almost without thinking. Pick up the top of your hair, leaving some front strands loose. Make a bow with that part by wrapping the strands around the elastic band and undo it for a very natural and casual finish.
8. Hairstyles for long hair: low bun with braids
If you are a fan of the boho-chic style for summer days, you will love this bow. It consists of making small braids on both sides of the hair, as many as you want, and collecting the hair with a low bun in a very natural way. Is beautiful! To enhance this effect, you can ruffle it yourself by pulling out some hairs.
How to do it?
Start by making baby braids wherever you like, then gather your hair into a low ponytail and finish by winding it up into a bun and leaving strands loose for a more informal look.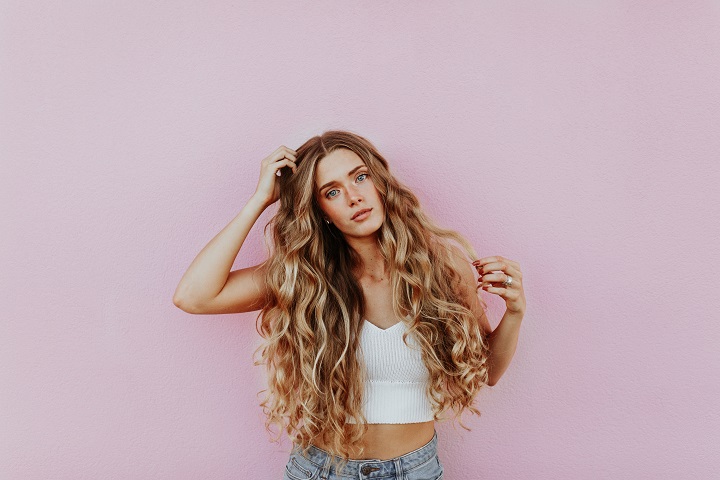 9. Hairstyles for long hair: semi-collected with high ponytail and locks
The fever of the 90s is back to stay three decades later. We already noticed the appearance of chunky highlights and the tendency to leave two strands of hair on the face loose. This semi-pick could have been ideally taken from one of the Spice Girls, but now it is super fashionable.
It collects the upper part of the hair in a ponytail, leaving two strands loose from the front. Perfect for adding a grunge air to your look.
How to do it?
Pick up and comb the upper part of your hair into a ponytail of the height you want – the higher, the more informal and rebellious – leaving two fine strands in the front area.
10. Hairstyles for Long Hair: Mini Bubble Ponytails
We know that baby braids are a trend, and after the stellar appearance of the bubble ponytail, a new hairstyle has been created as a result of the fusion between the two.
These are mini bubble pigtails, and it consists of taking two not very thick strands of hair close to the face and making two pigtails with the famous bubbles. It is a somewhat more daring trend that we have seen in celebrities like Gigi Hadid, who are characterized by having more grunge and bold style.
How to do them?
Separate two strands of hair and make two ponytails with a rubber band. Next, you see completing the line of bubbles without messing them up too much since we want to achieve a much more refined finish.
11. Hairstyles for long hair: double half-up bun with braids
Another of the hairstyles that we love is this one: two high buns in semi-updo. You can choose the size and height you like the most and decide whether to accompany them with braids to achieve a very chic finish or with accessories such as clips or scrunchies. What is clear is that high buns are going to triumph this year!
How to do it?
Please pick up the top of your hair and part it in two. Start with a root braid ( here's a tutorial ) and, when you get the height you want, tie the braid with a rubber band and make a bun by wrapping the hair around it. Repeat these steps on the other side. Lastly, grab it with a bobby pin and apply setting spray to make it last all day.
12. Hairstyles for long hair: braid with a bandana
In addition to being super pretty, this hairstyle is perfect for those days when your hair goes on its own. It is a braid dressed in a patterned scarf. It will give you a very sophisticated lady air that will elevate your most basic looks.
How to do it?
The first thing you should do is tie a scarf to a scrunchie and make a high ponytail by combing all the hair back. It couldn't be easier! Then, all you have to do is divide the ponytail into three strands, include the scarf in one of them and make a classic braid.